Gluten-free Bulgar Wheat Chicken Salad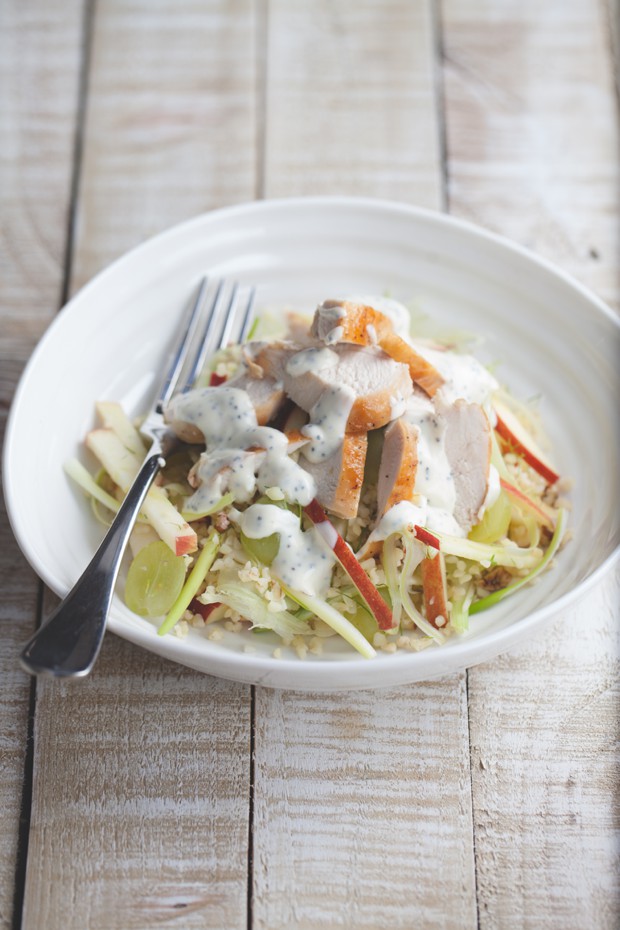 Recipe info
Cost: -
Serves: 4
Ease: 2/5
Prep Time: 20 Minutes
Cook Time: -
Ingredients
1 tablespoon olive oil
3 chicken breasts
Salad
1 mug/200g bulgar wheat
juice of a lemon
60g pecans, chopped
200g seedless grapes, halved
2 celery sticks, shaved into ribbons with a peeler
bunch spring onions, sliced
30g pack dill, chopped
2 Cox's apples, cut into matchsticks
Dressing
1 tablespoon apple cider vinegar
2 tablespoons raw honey
2 teaspoons Dijon mustard
300ml natural yoghurt
1 tablespoon poppy seeds
Heat the oil in a frying pan. Fry the chicken on a high heat for 2 minutes each side.
Season well. Fry for 4 minutes each side on a medium heat, with a lid on the pan.
Cut into slices and put to one side until needed.
Meanwhile, simmer the bulgar wheat in water for 15 minutes. Drain and set to one side.
Mix the salad ingredients together in a large bowl.
Mix the dressing ingredients together in a medium bowl.
Serve the salad with the chicken on top and drizzle over the dressing.
add your comment or request a recipe: